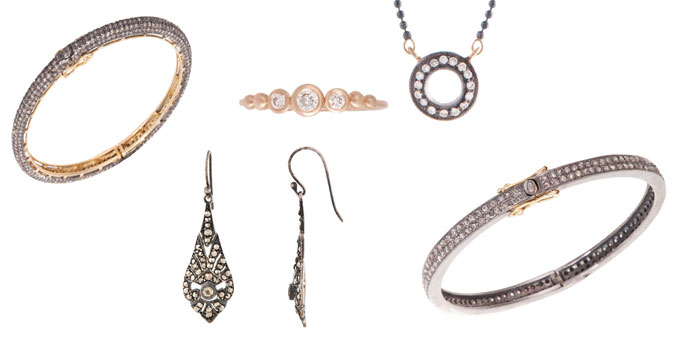 J
ulie Wettergrens butik på Strædet i København er pt. min yndlingsbutik, når det kommer til tøj, smykker og accesorries.
Jeg har to ringe derfra, hvor den ene er min forlovelsesring, og den anden, der går under navnet Dolly P, fik  jeg for nogle år siden (se billedet). Min forlovelsesring er dog kun at finde i den fysiske butik, og jeg har derfor ikke noget billede af den. Kan være jeg tager et billede af den og lægger det ud.
Derudover har jeg fået øreringene Sophia L af mine forældre i julegave i år. Øreringene brugte jeg blandt andet til Emils barnedåb (se billedet). Halskæden Kate M og i small står stadig på ønskelisten (se billedet). Det gælder også de to armbånd, Norma Jean (øverst t.v) og Sienna M (nederst t.v), og de kommer nok til at stå der rigtig længe, hvis de overhovedet bliver opfyldt, på grund af deres høje pris:)
Hvis du ikke lige kommer forbi butikken i København så tag i det mindste et kig i Julie Wettergrens fantastiske smykkeverden på juliewettergren.com.